The Only Open Source Software Company on The Forbes' World's Most Innovative Companies list
Red Hat Inc. just announced that it has landed on Forbes' World's Most Innovative Companies list.
The company, being the world's top Linux-based open source solutions provider, is listed as the 25th most innovative company in the world, making this recognition its fourth appearance on the list since 2011.
Red Hat was founded in the year 1993 with the aim of providing open-source software products for the enterprise and has since come to be associated with the enterprise OS: Red Hat Enterprise Linux, commonly referred to as RHEL.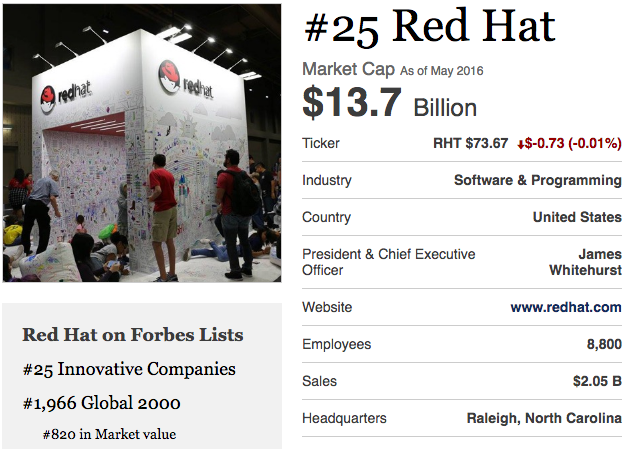 Red Hat provides a lot of features, including middleware, applications, storage, management products, and support, among others. It has also contributed to a lot more than a few free software projects and it is presently the second largest corporate contributor to the Linux kernel.
Who would have guessed it? Red Hat is the only open source software company that made it to Forbes' World's Most Innovative Companies list.
Concerning this development Jim Whitehurst, Red Hat CEO and president said:
"It is always an honor to see Red Hat's name on this list. Today, open source is a default choice for innovation, and more than 90 percent of Fortune 500 companies rely on Red Hat's enterprise open source solutions. This recognition by Forbes is a tribute to not only Red Hat associates around the world, but also to the open source communities that are driving community-powered innovation."
Excellent development don't you think? Especially for the open source world. Drop your comments down below.
People Who Read This Also Liked